段锐 博士
教授、博士生导师、"珠江学者"特聘教授
体育科学学院运动再生医学实验室
华南师范大学,广州,广东 中国 510006
电话:+862039310260-8626. Email: duanrui@m.scnu.edu.cn
Rui Duan Ph.D.
Principle Investigator, Professor,
"Pearl River Scholar" Titled Professor
Laboratory of Regenerative Medicine in Sports Science
South China Normal University, Guangzhou, China
Tel: +862039310260-8626(O)
Email: duanrui@m.scnu.edu.cn

个人照片
教育与培训背景(Education And Training)
约翰.霍普金斯大学医学院,巴尔的摩,马里兰州,美国
博士后 (2008-2014); 方向: 分子与遗传
印弟安纳大学医学院, 印地安那波利斯, 印地安那州, 美国
博士学位 (2004-2008); 专业: 细胞生理学
华南师范大学, 广州, 中国
硕士 (1999-2002); 专业: 物理学(光学)
学士 (1995-1999); 专业: 生物化学
研究及工作经历 (Research And Work Experience)
华南师范大学运动再生医学实验室,广州,中国
特聘教授 (2017.1-目前),博士生导师 (2017.5-目前)
广东省"珠江学者"特聘教授 (2018.10-目前)
约翰.霍普金斯大学医学院,巴尔的摩,马里兰州,美国
分子生物与遗传学系,助理研究员 (正式教职,2014-2016); 博士后 (2008-2014)
- 首次发现细胞骨架蛋白及相关激酶在细胞融合中的作用
- 骨骼肌干细胞的3D培养与分化
- 个人研究项目获得美国心脏学会资助
- 参与两项美国国立卫生院(NIH)面上项目R01
印弟安纳大学医学院, 印地安那波利斯, 印地安那州, 美国
细胞与整合生理学系,博士研究生 (2004-2008)
激光运动医学实验室,华南师范大学,广州,中国
实验员 (2002-2003)
- 设计并共同创建激光运动医学实验室
华南师范大学, 广州,中国
教育部激光生命科学重点实验室,硕士研究生 (1999-2002)
职业与领导能力 (Professional Development)
- 2018年6月 第五届广州运动与健康国际学术研讨会暨"体医结合论坛"大会主持人
- 2012年至今 担任特约审稿人 Stem Cells, Journal of Cell Biology, Methods, Biology of the Cell, Journal of Cellular Biochemistry, Cellular and Molecular Biology
- 2012年到今 美国心脏学会会员
- 2010年至今 美国Sigma-Xi科学会会员
奖励与荣誉 (Honors and Rewards)
美国激光医学学会杰出学生研究奖(2002);美国Sigma Xi科学会学生研究奖(2005);美国组织与解剖学会Langman奖(2007);美国心脏学会(AHA)博士后Fellowship(2012);广东省生理学会优秀中青年人才奖(2018)
研究论文与会议报告(Selected Publications )
同行评议论文 (Peer-Reviewed Articles)
Duan R, Kim JH, Shilagardi K, Schiffhauer E, Son S, Lee DH, Li S, Thomas G, Luo T, Fletcher DA, Robinson DN, Chen EH, Spectrin is a mechanoresponsive protein shaping fusogenic synapse architecture during myoblast fusion,Nature Cell Biology, 2018, 20(6):688-698.
Li FH, Li T, Ai JY, Sun L, Min Z, Duan R, Zhu L, Liu YY, Liu TC. Beneficial Autophagic Activities, Mitochondrial Function, and Metabolic Phenotype Adaptations Promoted by High-Intensity Interval Training in a Rat Model. Front Physiol. 2018, 9:571.
Wu C, Yang L, Tucker D, Dong Y, Zhu L, Duan R, Liu TC, Zhang Q. Beneficial Effects of Exercise Pretreatment in a Sporadic Alzheimer's Rat Model. Med Sci Sports Exerc. 2018, 50(5):945-956.
Kim JH*, Jin P*, Duan R*, Chen EH. Mechanisms of myoblast fusion during muscle development. Curr Opin Genet Dev., 2015, 32:162-170. (共第一作者)
Shilagardi K, Li S, Luo F, Marikar F, Duan R, Jin P, Kim JH, Murnen K, Chen EH. Actin-propelled invasive membrane protrusions promote fusogenic protein engagement during cell-cell fusion. Science, 2013, 340(6130):359-63.
Duan R, Jin P, Luo F, Anderson N and Chen EH. Group I PAKs Function Downstream of Rac to Regulate Podosome Invasion During Myoblast Fusion in vivo. J Cell Biol., 2012, 199(1):169-85.
Jin P*, Duan R*, Luo F, Zhang G, Hong N, Chen EH. Competition between Blown Fuse and WASP for WIP binding regulates the dynamics of WASP-dependent actin polymerization in vivo. Dev. Cell, 2011, 20(5):623-38. (*Co-First Author)
Sens K, Zhang S, Jin P, Duan R, Zhang G, Luo F, Parachini L and Chen EH. An Invasive Podosome-like Structure Promotes Fusion Pore formation during Myoblast Fusion. J Cell Biol. 2010, 191(5):1013-27.
Duan R and Gallagher PJ. Dependence of Skeletal Muscle Myoblast Fusion on a Novel Cortical Actin Wall and Nonmuscle Myosin IIA. Dev. Biol., 2009; 325(2):374-85.
Duan R, Zhu L, Liu TCY et al. Light emitting diode irradiation protect against the amyloid beta 25-35 induced apoptosis of PC12 cell in vitro. Lasers Surg. Med., 2003, 33:199–203.
Duan R, Liu TCY et al., Signal transduction pathway involved in low intensity He-Ne laser–induced respiratory burst in bovine neutrophils: a potential mechanism of low intensity laser biostimulation. Lasers Surg. Med., 2001, 29: 174-178.
会议报告

(Invited talks)
段锐,血影蛋白在骨骼肌再生修复中细胞生物学机制,第一届国际运动医学与健康学术论坛,2017年10月?中国成都,分会场口头报告
Duan R. Spectrin functions as a dynamic mechanosensory protein that shapes intercellular invasion during cell-cell fusion. Keynote Speaker, Annual Meeting of Guangdong Physiology Society, Guangzhou, March 2017 (广东省生理学会,大会特邀报告)
Duan R, Jin P, Luo F and Chen EH. Group I PAKs Functions Downstream of Rac to Regulate Podosome Invasion During Myoblast Fusion in vivo. Poster Presentation, 2012 meeting, Society for Muscle Biology, New York City, NY, USA 2012
Duan R, Gallagher P.J. Requirement of nonmuscle myosin IIA in the formation of an asymmetrical actin wall during skeletal muscle myoblast fusion#. Hot Topics, Invited talk, Chair Fund. Gordon Research Conference on Cell-Cell fusion, New London, NH, USA 2007 (热点报道)
Duan R, Gallagher P.J. Non-muscle myosin IIA is required for skeletal muscle myoblast fusion. Langman Graduate Student Award Session: Oral Presentation. Experimental Biology Meeting, Washington DC, USA 2007
Duan R, Gallagher P.J. Non-muscle myosin IIA is required for skeletal muscle myoblast fusion. Oral Presentation, Platform Session, Muscle Development: Stem to Stern. Experimental Biology Meeting, Washington DC, USA 2007
研究资助(Funding )
在研(Current)
1. 国家自然科学基金面上项目:血影蛋白参与成肌细胞融合的机制;项目批准号:31771256;在研,主持(第一)。(Principle Investigator)
2. 国家载人航天领域预先研究项目:重力与微重力两栖宇航员训练模式-重力与微重力两栖适应性锻炼机制研究;项目批准号:17450208;共同主持(第二)。(Co-Principle Investigator)
3. 国家重点研发计划:LED治疗代谢性疾病的光参量研究及其可穿戴设备研究和应用示范;项目批准号:2017YFB0403801;在研,参与(全国排位13)。(Participant)
已完成(Completed)
4. American Heart Association (美国心脏学会研究基金):CHARACTERIZATION OF A NOVEL REGULATOR IN MYOBLAST FUSION;项目批准号:12POST11640008;项目起止时间:2012年07月至2014年06月;直接费用:8.2万(美元);已结题,主持。(Principle Investigator)
5. USA National Institutes of Health R01(美国国立卫生院面上项目):MOLECULAR MECHANISMS OF MYOBLAST FUSION;项目批准号:AR053173;项目起止时间 :2012年06月至2016年05月;直接费用:195.7万(美元);已结题,主持人:Elizabeth Chen, 主要参与人。
6. USA National Institutes of Health R01(美国国立卫生院面上项目):DISSECTING THE MECHANISMS OF CELL-CELL FUSION USING A CELL CULTURE SYSTEM;项目批准号:GM098816;项目起止时间:2012年12月至2106年11月;直接费用:177万(美元);已结题,主持人:Elizabeth Chen,本人参与。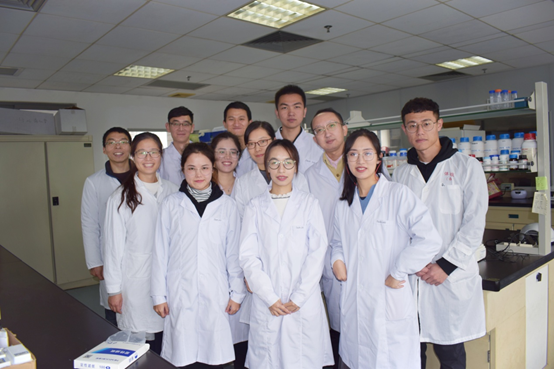 运动再生医学实验室集体照(Duan Lab)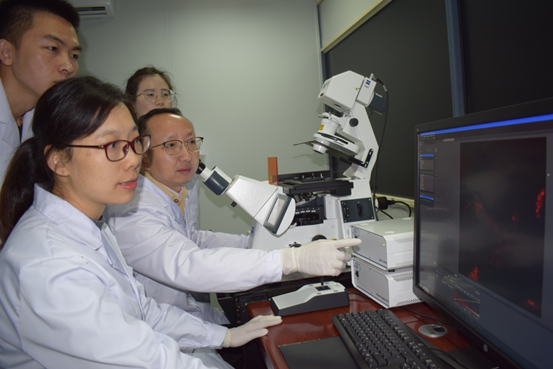 指导实验研究 (Duan Lab)